Welcome to my Beginners Guide to Keeping Chickens. This site should contain everything you need to know about the hobby to get you started. Here is a little taste of what you will find:
I have been keeping chickens for over 20 years, since I was a small child. For as long as I can remember before that, my parents used to keep 40 or so hens at the bottom of our garden. They were a constant source of amusement for us with their funny antics but for my parents, keeping chickens was mainly practical since they provided our family with a constant supply of fresh eggs. I have memories of holding day old chicks as a child, but also opening the door of the chicken house to see all of our hens had been killed by a fox. There were good times but also bad times but what I realise now is that I was learning more and more about keeping chickens year after year.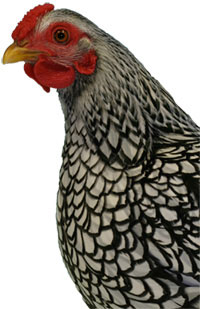 For a number of years, I have been helping friends get started into the wonderful hobby of keeping hens and I during this time, I had been toying with the idea of creating a small website specifically aimed at helping newcomers to get started with keeping a few hens in their garden. I have to credit the poultrykeeper.com website for some of the fantastic images and information you see here and give a special thank you to Tim who has helped me put this site together. The Keeping Chickens section at poultrykeeper is worth a visit and if you're starting out and researching breeds, the Chicken Breeds section has photos of nearly every standardised breed in the UK.
There is, if truth be known no economic benefit in keeping chickens at home for eggs these days but the difference in freshness and quality beats shop bought eggs by a long way and the pleasure in seeing a group of hens scratching around the garden providing you with a daily dose of amusement as well as organic bug control makes them so worth while.
"…the difference in freshness and quality beats shop bought eggs by a long way…"
If you ever get the chance to visit a battery farm, I would say you should. Ex-Battery hens lead a terribly miserable life and the space these girls have (or don't have!) in their cage truly needs seeing to believe. By keeping some chickens in the back garden, you are able to enhance their quality of life immeasurably in comparison to the humble battery hen.
My Keeping Chickens site is organised in a specific way:
Each item on the menu is like a chapter of a book. So if you are a complete beginner, I would suggest you start on the left hand side and work to the right.
If you like this site, I would appreciate you sharing it with your friends via the 'social' buttons below. Please feel free to comment on pages as you browse, I try to answer as many questions as I can to help.
Good luck and I hope you get as much pleasure out of your hens as I do!
19th December 2012. We have set up a Google+ Community here as a place to chat or share your experiences – it is very new and there are only a couple of members at the moment but please join us!