I have compiled these lists based on what I keep in stock for my 20 chickens. I have first listed what I would consider essential to looking after your hens and the second list is what I consider useful to have in stock just in case. I have not included common items such as food, grit or bedding and cleaning equipment. The products can of course vary slightly depending on your preferences or local supplier availability. I have included links to the where I usually buy these products from where possible. I haven't included food or mixed corn.
The sub menus give more detailed information about some of these products which I have included as links within the lists.
My Essential 'Must Have' list (in no particular order):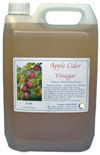 Apple Cider Vinegar or ACV is given to my girls for one week monthly.
The product you buy must be unrefined to get the benefit and usually is cloudy. Don't buy human grade ACV which is filtered and not as beneficial. I mix it at 2% dilution rate. It has anti-bacterial benefits and discourages coccisidiosis and worms by making the gut slightly acidic.
Click to view or buy on Amazon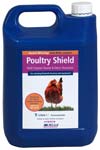 Poultry Shield: is a very safe detergent that is good for removing organic matter and killing bacteria that cause diseases.
It does not contain any poisons or caustic chemicals like some household products. It is very good for controlling Red Mite by washing off their waxy outer coating. Poultry Shield gets into cracks where mites hide and where powders can't reach.
Click to view or buy on Amazon

Diatom: A wonderful product that I would not be without. Totally organic (made of fossilised diatoms).
I use this in feed to help keep worms at bay (5% in feed from time to time) and also dust in the coop during the summer months for Red Mite control.
Click to view or buy on Amazon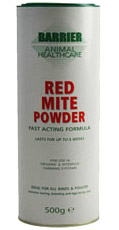 Red Mite Powder is suitable for organic production and can be used on the hens themselves.
Mites are usually in the house, only going onto birds at night for a feed so this helps protect them at night.
You can also use Red Mite Powder around the nest boxes.
It contains tea tree and always leaves the nest boxes smelling wonderful!
Click to view or buy on Amazon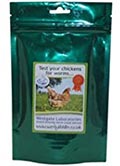 Worm Count Kit. I use a worm count kit before using a wormer.
These postal kits are excellent, they come with everything you need to take a sample and send it off to the lab for analysis. You will receive the results by email and advice on whether you need to use a wormer.
Click to view or buy on Amazon

Battles Poultry Drink: I use this multi-vitamin drink at times of stress and during the moult.
It is particularly good if birds are recovering from Red Mite since it contains iron phosphorus potassium manganese and copper.
It contains a selection of 5 minerals in a high energy sugar syrup base. and supports all round condition and health. Just add directly to the drinking water or the daily ration.
Click here to view or buy on Amazon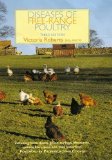 Disease of Free Range Poultry: by Victoria Roberts. Written in plain English and a very valuable reference book to look at if something goes wrong.
This is a very good book that I would not want to be without. There are other books I own on problems with poultry but this one is written for the UK market and some other (cheaper) books cover diseases and medication we don't have here.
Click here to view or buy on Amazon
My 'Useful to Have' list (in no particular order):
The best item I own! A door opener / closer can be set to open the coop at 7am and close it at dusk after the girls have gone to roost. I can get home after dark knowing the girls are safe from predators. There are a few different versions available on the market, look for VSB or Chicken Guard.
Click to view range or buy on Amazon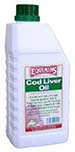 5 litres Cod Liver Oil

A small amount of cod liver oil added to feed during the moult, helps birds to re-grow feathers. It's also useful for mixing wormer with feeds – A small amount in a pot mixed with a wormer helps to get the powder to stick to the pellets without going to the bottom of the hopper.
Click to view or buy on Amazon
Verm-X is a herbal supplement that helps prevent internal parasites (worms) and keeps birds in good condition.
I use Verm-X regularly but use Flubenvet if I have a confirmed case of worms (I test with a worm count kit above first and 99% of the time have the all-clear). It is easy to administer with the 3.5g scoop that comes in the pot. The recommended dose is one scoop per bird per day.
Click to view or buy on Amazon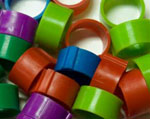 Coloured Plastic Leg Rings
To identify birds that look the same. For example if there is a bird off colour, I will ring her to make it easy to keep an eye on her in the flock. If you are hatching your own and (eventually) keeping different ages of chickens, together then also consider the more permanent rings from the Poultry Club of G.B. that have a unique number and the year stamped on them.
Click to view or buy on Amazon

Dummy Eggs
I use dummy (or pot) eggs when I have a broody hen and I want her to sit for a few days to make sure she is keen. Once she's keen, she can be transferred to a broody coop and can sit on some eggs.
Click to view or buy on Amazon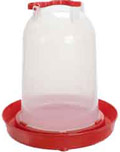 Spare Water Container
If one of my water containers freezes or gets broken by accident, I always keep a spare. A 6 litre container lasts my 20 girls 2 days, (although ideally you should be giving your hens fresh water daily) but sometimes I will empty some out on the second day to freshen it up and I still have a little spare in the container.
4 litres should be enough for 12 hens.
Click to view or buy on Amazon
Do you find anything you can't live without? Please leave me a comment below.